To request your veteran's Civil War Pension click here: Request a Civil War Pension
Understanding the Civil War Pension
The Civil War pension files at the National Archives document the pension application and maintenance process for veterans and dependents of Civil War veterans. These pension files often contain a wide variety of archival records which can be useful for genealogical research as well as for understanding the military service of the individual Civil War veteran. A single Civil War pension file can contain hundreds of pages covering the Civil War veteran's and their dependent's applications for benefits. The Civil War pension file is a must-have for anyone conducting research of a Civil War veteran.
To Request Your Civil War Veteran's Pension File click here: Request a Civil War Pension File
The Civil War pension files are the most personal of the military service records which are available at the National Archives for the research of individual Civil War veterans. Because the Civil war pension files were created during the application process to receive benefits from the government and were maintained for the duration of the Civil War veteran's pension payout- they often contain vital records, witness affidavits, medical records, correspondence and other documentation which make them a treasure-trove for genealogists and Civil War researchers alike.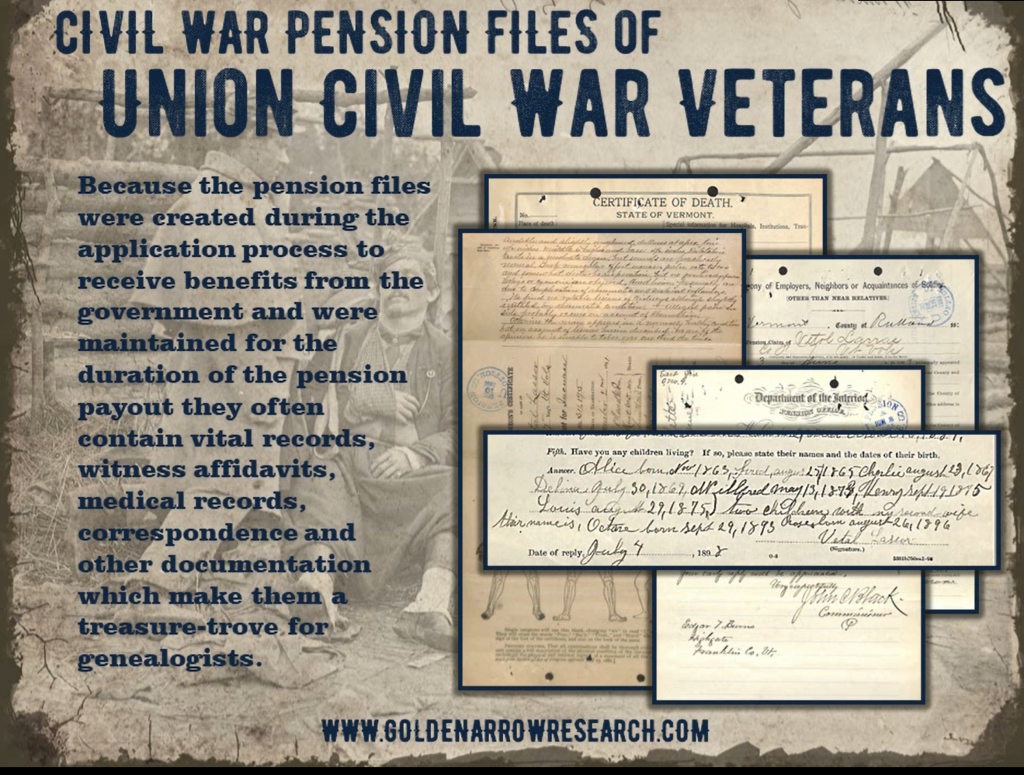 It is not unusual for the Civil War Pension file to provide more detail on the Civil War veteran's military service history than their actual compiled military service record. For example, if a Civil War veteran lived for many years after the war and received benefits for wounds received in battle, there is usually a large amount of documentation covering both military service and medical treatment.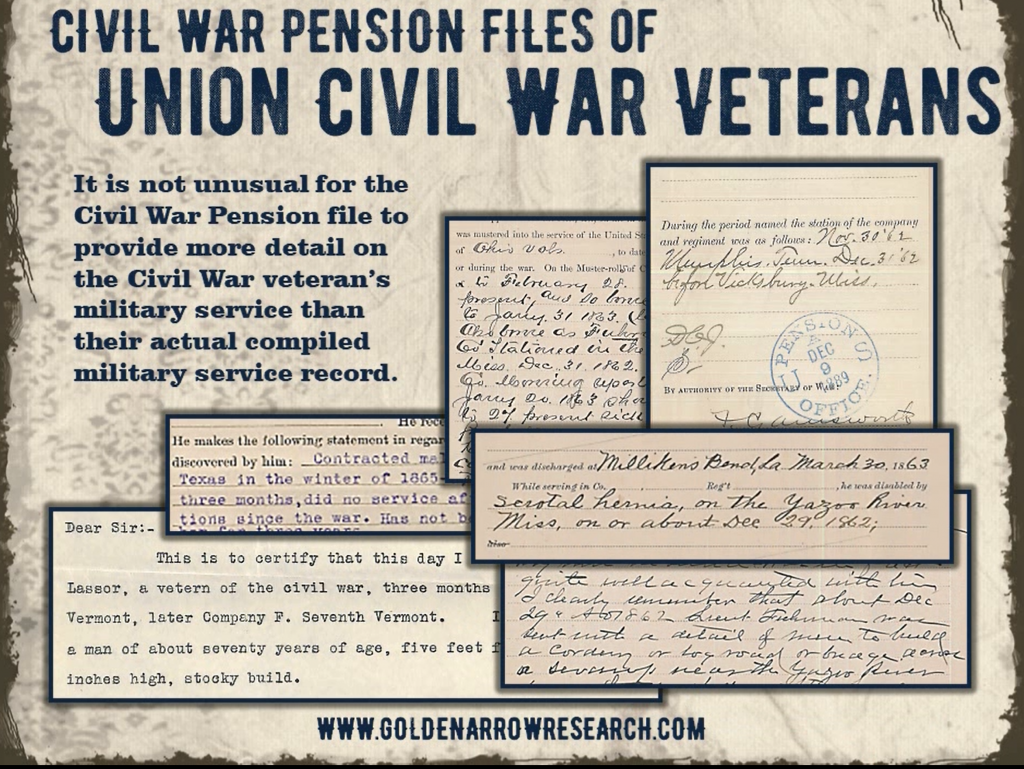 Medical disability records inside of the Civil War Pension can span decades since documentation was required for the disbursement, modification, and continuation of payments to the Civil War veteran and their beneficiaries. The strict requirements for documentation during the Civil War pension benefits application process means that these files are often full of handwritten correspondence as well as fascinating family related paperwork proving the eligibility of the Civil war veteran and their family members for Civil War pension payments.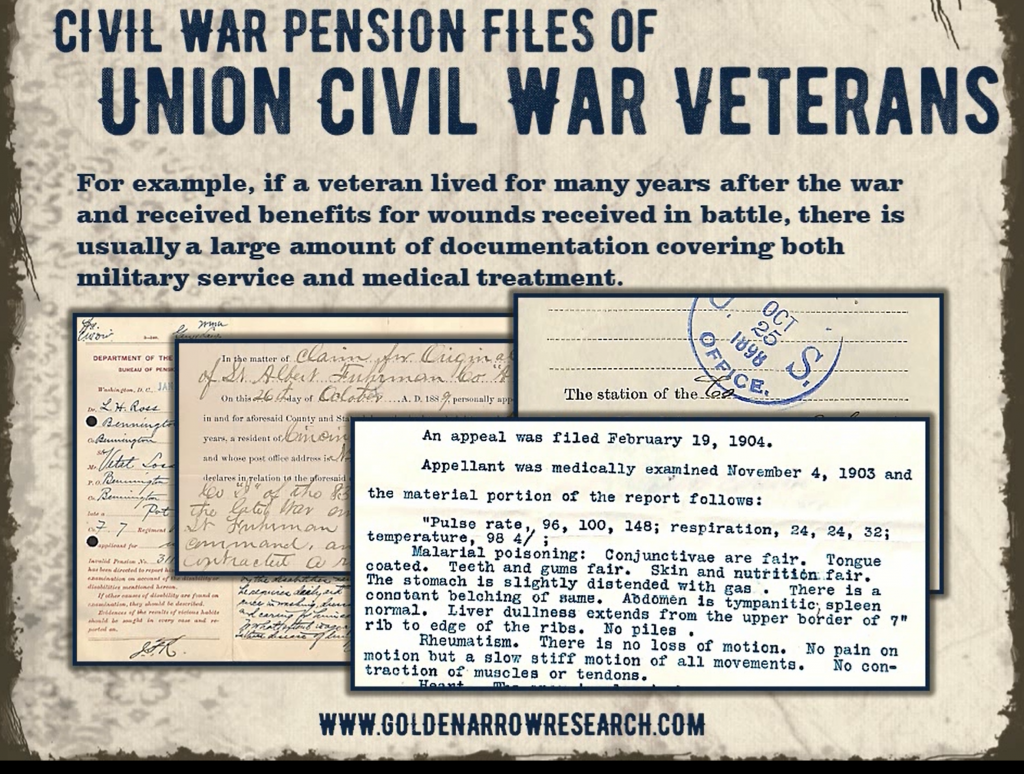 In some instances, pension payments were made to widows or children of the Civil War veteran for many decades after the war. These Civil war pension records and the correspondence they generated can show us what life was like in the years after the conflict for both the post-war veteran and those in their immediate family. The value of the Civil War Pension file for military and genealogical research cannot be overstated.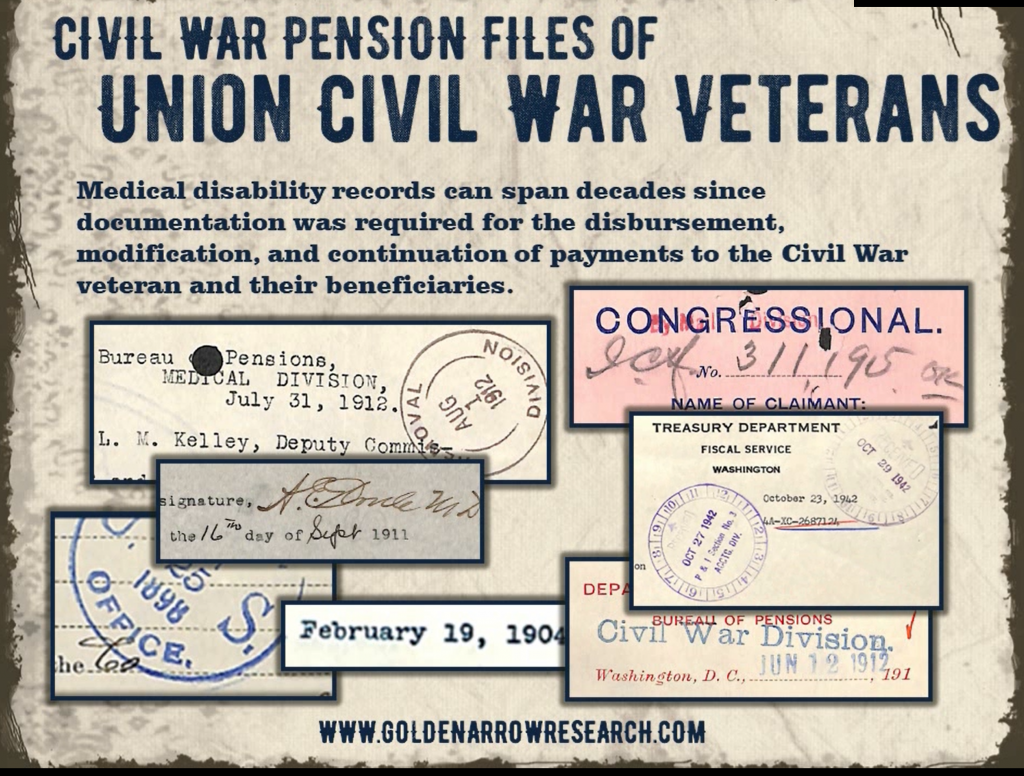 Request Your Veteran's Civil War Pension
Golden Arrow Research specializes in the research of Civil War Pension files. If you are interested in researching a Civil War veteran please fill out the form below and we will contact you with pricing and options available for accessing your veteran's Civil War Pension.